The A9home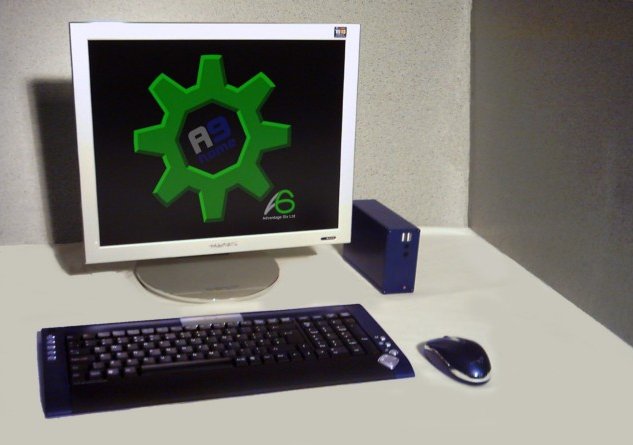 The A9home with colour coded wireless keyboard and mouse
(yes that little blue box!)
Outline Specifications
Internal
400MHz Samsung ARM9 processor
Graphics processor
Power Management Unit
128M SDRAM
8M VRAM
40GB hard disc
2-3W average internal power usage
Front
2 x USB
Microphone in
Headphone out
Power/Reset button
Status LEDs
Rear
2 x USB
2 x PS/2
10/100MBit network
Serial port
Video Out
Power In
External
Colour: Cobalt Blue
Enclosure: Rugged Aluminium chassis
Size: 168 x 103 x 53 mm (6.6" x 4.1" x 2.1" approx.)
Weight: 550g (approx. 1lb 3oz)
Power: 20W power supply unit (plenty of overhead for external devices)
Software
RISC OS Adjust 32 (flash ROM)
Popular Simtec USB stack
Many applications run unaltered
Retail
In due course retailers will have the A9home available for sale.
Advantage Six Ltd do not deal with retail sales (but see below), please be patient.
Initially CJE Micro's will be the sole UK retailer.
A product brochure is available.


Developers and Experienced Users
In order to encourage and support developers, we ran an early access scheme in parallel with the beta test. The beta programme has since been extended to include experienced users. This is an important step on the way to a full retail release and gives us confidence in a wider coverage.
In recognition that the machines that are now available are not yet retail quality, a small discount is available during the test period - whatever changes are required to your machine to bring it up to a full retail equivalent, when available, are covered by this additional payment. Terms and conditions apply, see application form.
Effectively Advantage Six are leaving you with a deposit against the delivery of promised functionallity.
When you upgrade to the retail version, CJE Micro's will take over support.
A product brochure (version 1 - as available at the show) is available. This includes a developer application form.
If you wish to apply to be considered for the experienced user phase of the beta programme, fill in the form.


OEM
Please contact us to discuss your specific requirements. At the present time samples are available through the developer scheme (above), with the exception that, subject to qualification, you may choose to continue support directly through Advantage Six.
Many applications may already be completely supported.
A product brochure is available.

Links
News
The A9home was launched at Wakefield 2005 to a very positive reception.

The following news portals covered the show:


Selected stories:
Contact:

Advantage Six Ltd
PO Box 255
Stockport
SK7 0BG

Tel: 01706 848 600
email: info@advantagesix.com
www: http://www.advantagesix.com




---
Advantage Six Ltd.
All content
© Advantage6 2005
unless otherwise stated.
E&OE.